Ottawa Easy Wheels
Automotive repair and maintenance services in Orleans, Ontario since 2013.
Empowering customers to make informed decisions.
Diagnostic Services
Is one of your dash lights on? Are you concerned about a certain noise your vehicle is making? Does something not feel right? Contact us today!
Digital Service Inspections
A digital copy of your vehicle's inspection report featuring comments, ratings, photos and videos.
Full Service & Repairs
We do everything from tune ups, exhaust work, air conditioning, diagnostics, suspension work and anything else your vehicle may need.
About Us
Ottawa Easy Wheels Inc. is a locally owned automotive repair business based in Orleans, Ontario. Owned and operated by two brothers, Alex and Dan are the licensed mechanics that will personally work on your vehicle. Their commitment to quality repairs, honesty and transparency speaks to their mission of empowering customers to make informed decisions.
Alex is a licensed automotive technician with experience in both the private sector and in dealerships, he worked at Mazda for 10 years before fully diving into Ottawa Easy Wheels.
Dan received a bachelors degree in law from the Carleton University before joining the trade. He has experience with trucks and trailers, as well as automotive experience in the private sector.
Our full service shop is located in the heart of Orléans on St. Joseph Boulevard. Since 2013, we have been committed to empowering customers to make informed decisions.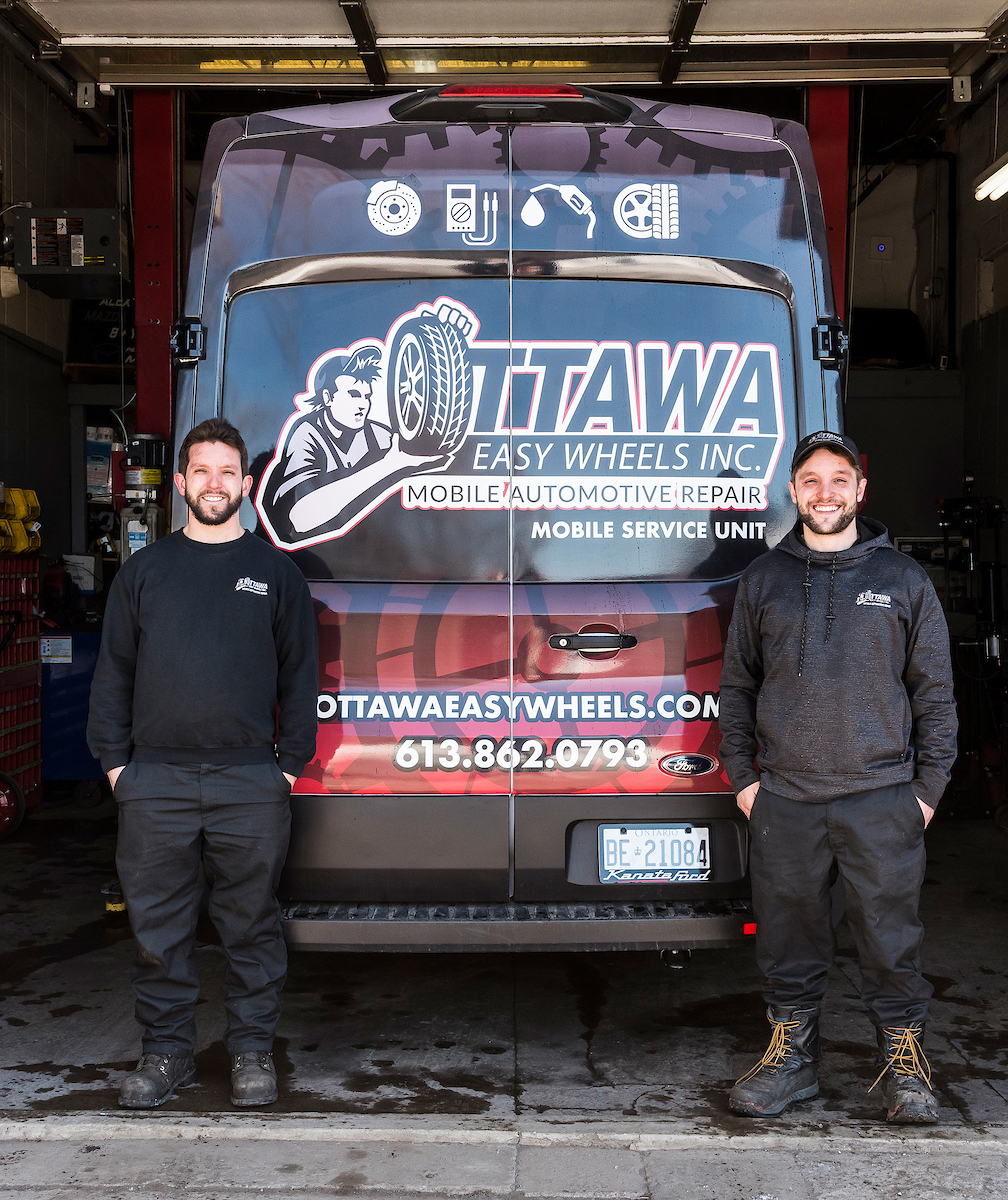 Services
Diagnostics
Warranty Approved Oil & Filter Changes
Brakes
General & Major Repairs
Seasonal Inspections
Safety Inspections (We are a 

licensed Motor Vehicle Inspection Station in Ontario)

Tire Installation

Tire Sales
Why Us?
To put it simply, we're committed to bringing easiness to the auto industry and empowering customers with knowledge to make informed decisions. We believe in honesty and transparency, and that's why we've invested in offering Digital Service Inspections that include photos and/or videos, and it's why we often text our customers mid-way through jobs.
Read the testimonials below, or view our 130+ 5-star reviews on Google.
We'd love to hear from you and show you just how easy it can be.

"The service that Dan and Alex provided was above and beyond our expectations. The digital inspection was amazing and the videos provided helpful guidance and understanding of what exactly needed to be replaced. I would definitely recommend their services to anyone looking for some honest mechanics who take pride in what they do."

"Professional bilingual service! I received a video of the maintenance required while inspection was performed. I know what brakes look like now!"

"I have used their services for about 10 years and recommend them to everyone I know. They take great care of their customers and they ensure you understand what they are talking about and always give you options. Dan and Alex are fantastic."
Book Your Appointment
Let us show you how easy maintaining your vehicle can be!
Empowering customers to make informed decisions.